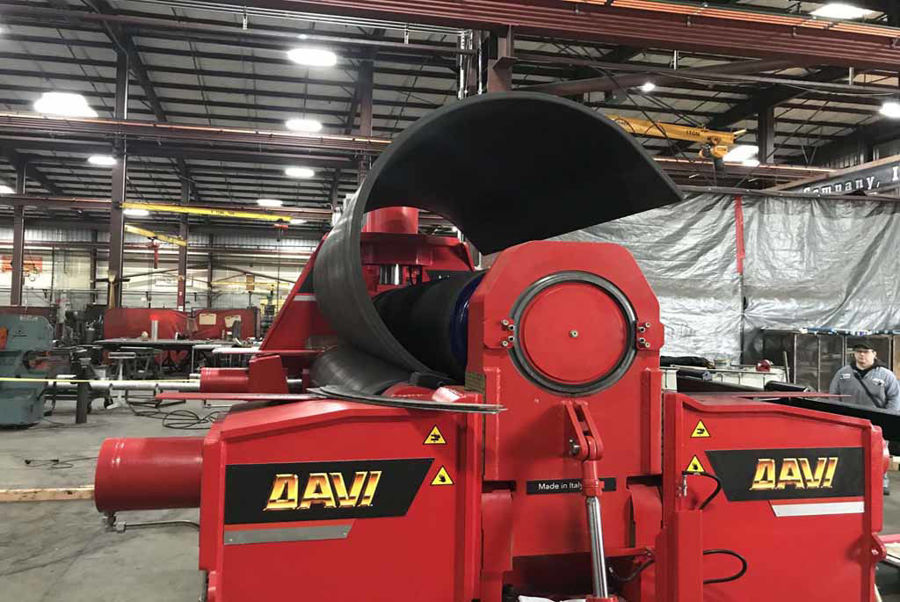 Rolling Along & Staying Strong: Our Variable Axis Plate Roll is Strong, Reliable & Efficient
Boy, has it been a long time since we have heard words like "solid, efficient and reliable" used, instead of words like "uncertain, unexpected, and unknown" that have been used so often these last few months in our country. Well, we are here to share with you that our variable axis plate rolling machine has drastically increased our capacity for plate rolling and we are excited about the opportunity to bid your plate rolling needs!
DAVI recently contacted us to conduct an interview related to our experience with both the MCP Big Angle Roll and the MAV Variable Axis Plate Roll. Click here to read "Face to Face With A Master Bender." Watch the video below to learn more and to see the MAV in action!
The overall capacity for standard A36 plate is 10 ft x 2½" thick. For higher yield material (example 60 ksi) the machine can pre-bend and roll the following examples:
10 ft x 1 5/8″ thick to a 61″ outside diameter.
9 ft x 1 3/4″ thick to a 96″ outside diameter.
10 ft x 3/4″ thick to a 30″ inside diameter.