Plate can come in various shapes, sizes and types. Plate is essentially a much larger section of flat bar and can be cut to virtually any width, length and/or thickness. We can bend all types of plate including Aluminum, stainless and carbon steel.
Plates can be made from several different processes and materials. The most common plate is "universal mill plate" which is designated as A36 material with a yield point (PSI) of 36,000 minimum. Please contact Albina or a plate service center for additional options.
Plate is almost always rolled on a plate roll (with either 3 rolls or 4 rolls). Rolling to a radius occurs when the distance between the 3 or 4 plate rolls are manipulated before passing the material thru the rolls.
Albina has an entire "family" of plate rolls. The various options we have available allow us to roll small / thin material up to very large / thick material.
Our plate rolling capacity is determined by several factors. The thickness we can roll is tied directly to the width of the plate we are bending. For example, our largest plate roll can bend up to 10-foot-wide material x 2½" thick A36 grade material. As the plate becomes smaller in width, we can bend thicker material.
Another factor to consider when plate rolling is the diameter the plate is being rolled to. One cannot roll plate to a diameter that is smaller than the roll shaft on the plate roll machine. The rolls on Albina's plate rolling equipment vary in diameter with each machine.
Rolled plates are most commonly used as cylinders, conical shapes; column wraps (stiffeners), bridge supports or industrial duct systems.
An alternative bending method for plate is the pyramid roll machine, but to successfully bend on a pyramid roll machine the width of the plate needs to be under the maximum capacity of the roll machine. For Albina we can roll up to 22" wide plate on our pyramid roll machine x 4" thick.
Albina's plate rolling equipment includes:
LARGE PLATE ROLL: 2½" thick x 10 ft wide A36 material.  The largest diameter we can roll off this machine is up to a 12 ft diameter and we are limited to 20,000# sheets of material (which is our crane capacity).  The opening between rolls is 4¾", which is the limit to thickness that can fit in this machine.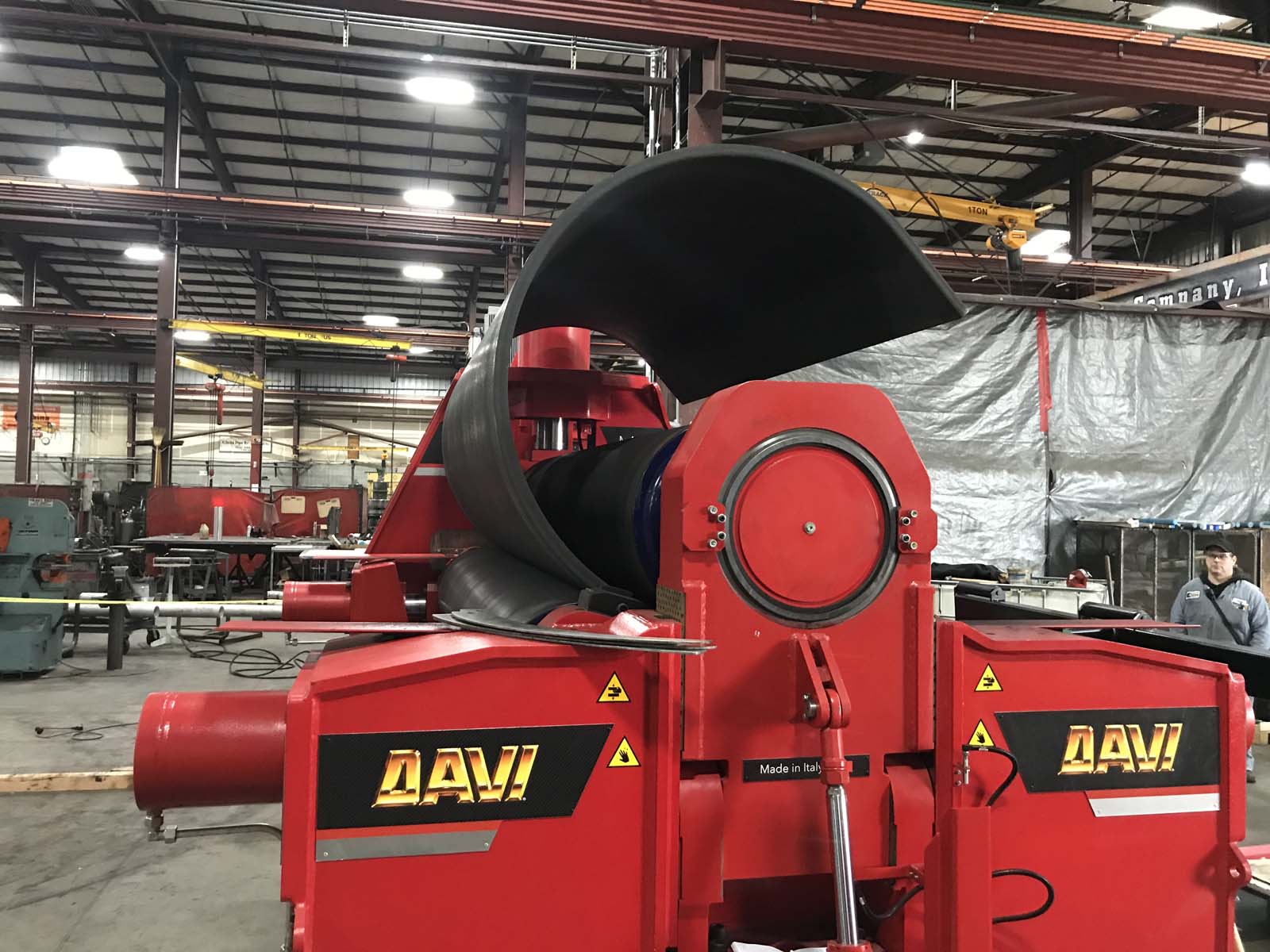 MEDIUM PLATE ROLL: ¾" thick x 10 ft wide A36 material.  On this machine we can roll down to a 14¾" diameter.
SMALL PLATE ROLL: This machine can roll up to 3/8" thick x 6 ft wide A36 material.  The tightest we can bend is 8.66" inside diameter on ¼" thick x 2 ft wide A36 material.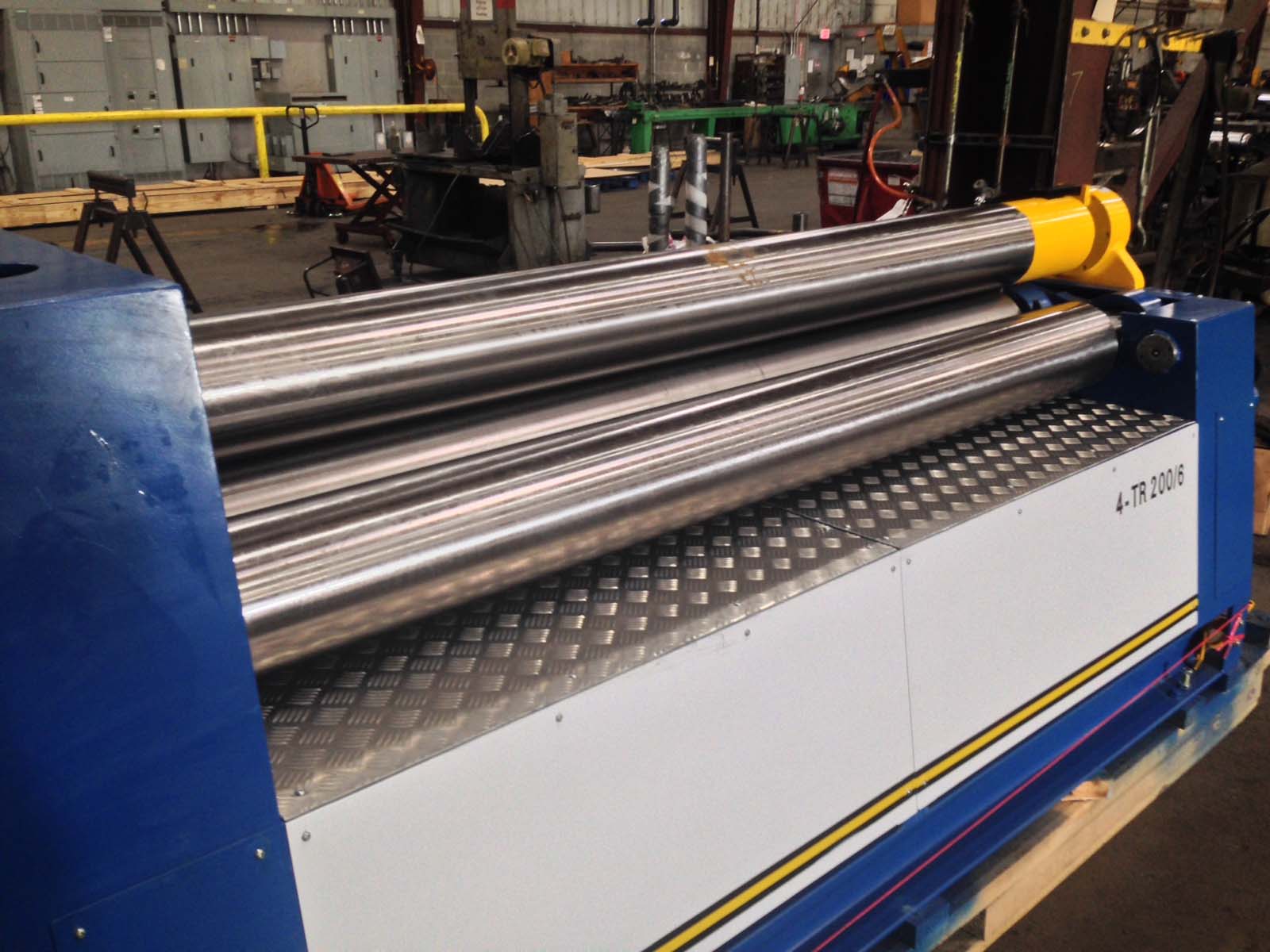 ---
PL 3/8" THICK X 60" WIDE A36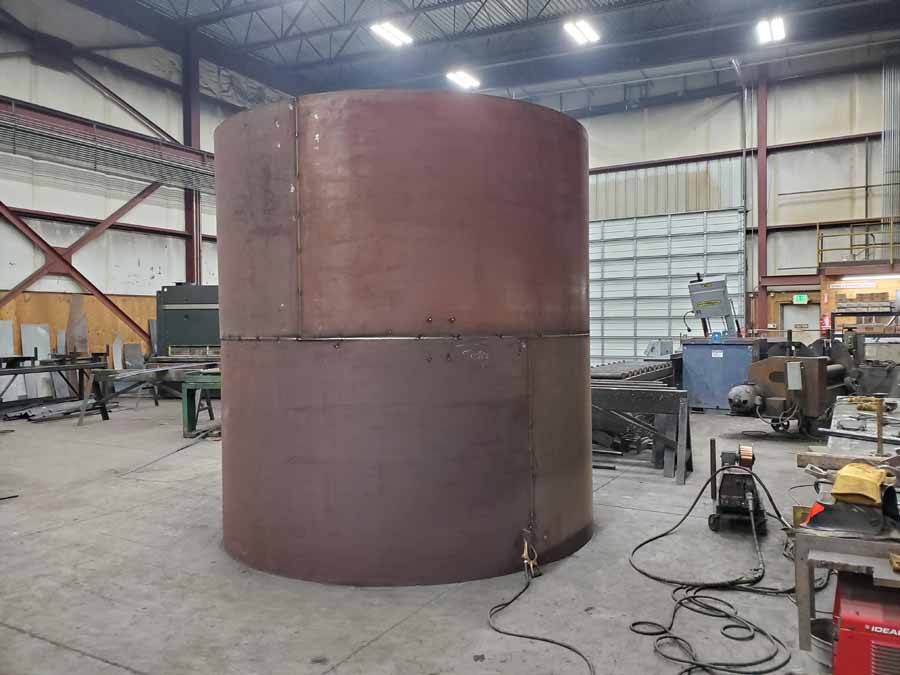 Custom Plate Rolls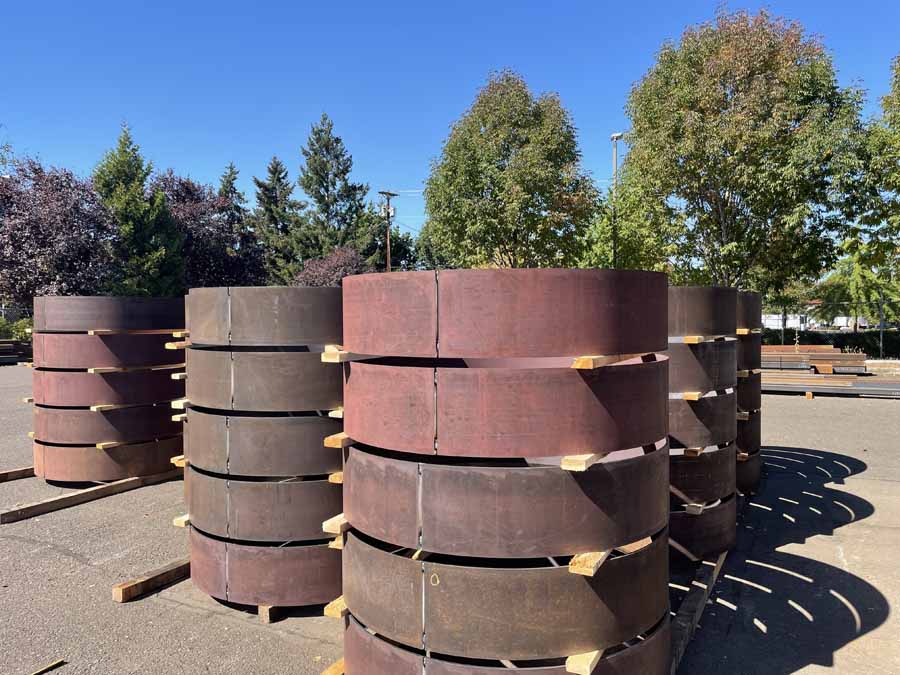 92" x 53-5/8" x 3/8" T304 S/S Plate Rolled to a 28" Outside Diameter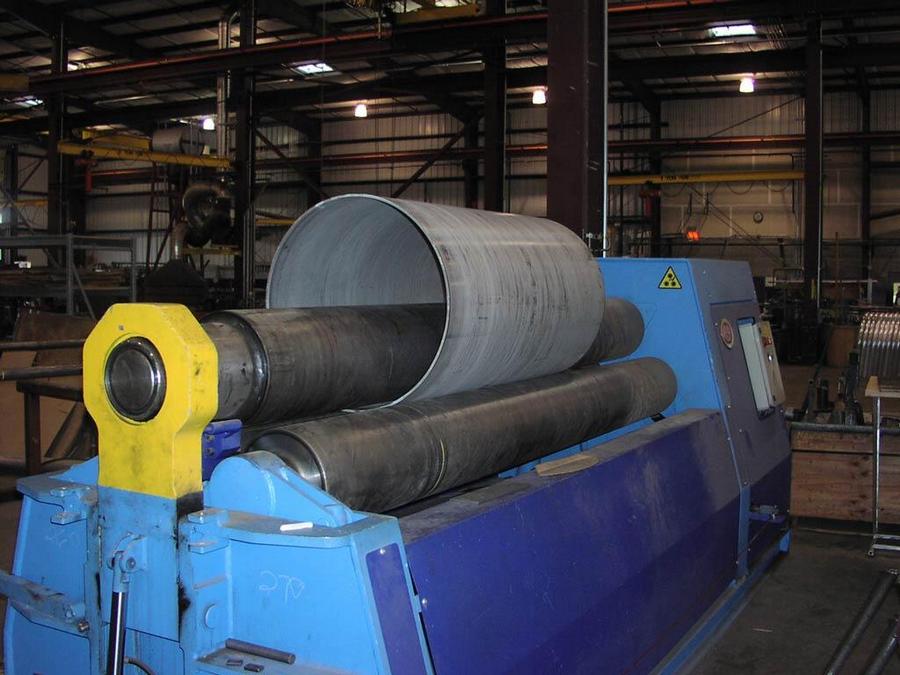 Plate Rolling .190" 5083 ALUM Sheets 85" OD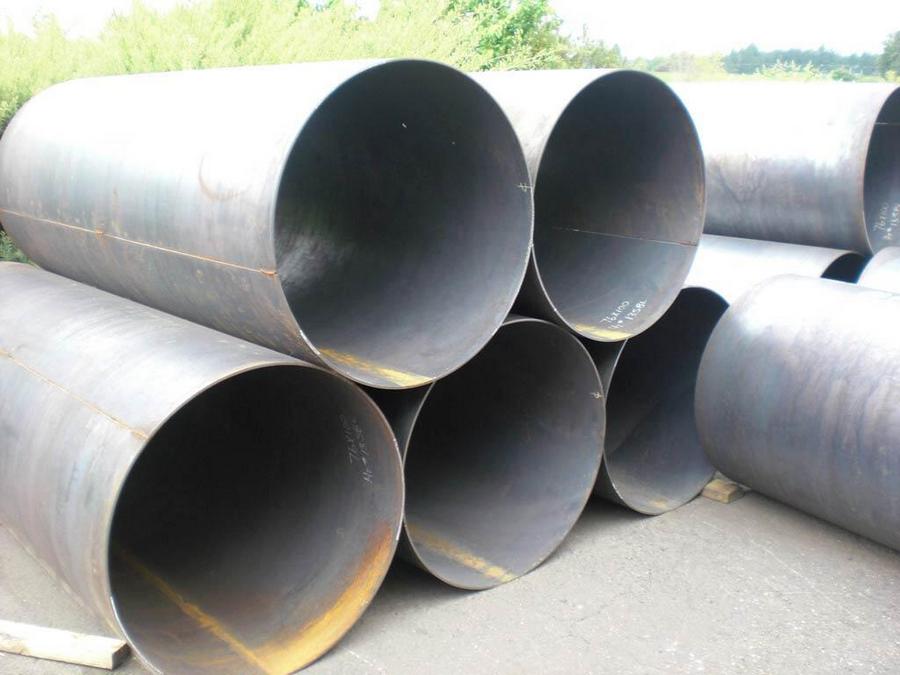 Piling supports Las Vegas Water Treatment Facility. FB 1/2" x 12" A36 and FB 3/16" x 4" T304 S/S held 180 deg. bends on a 2ft. radius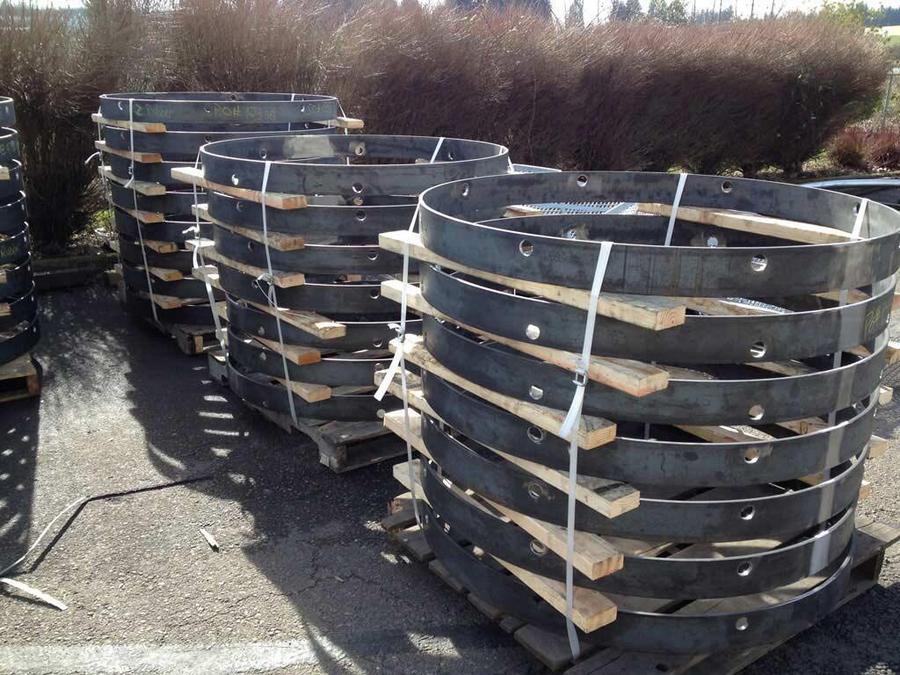 Rolled Plate for Industrial Application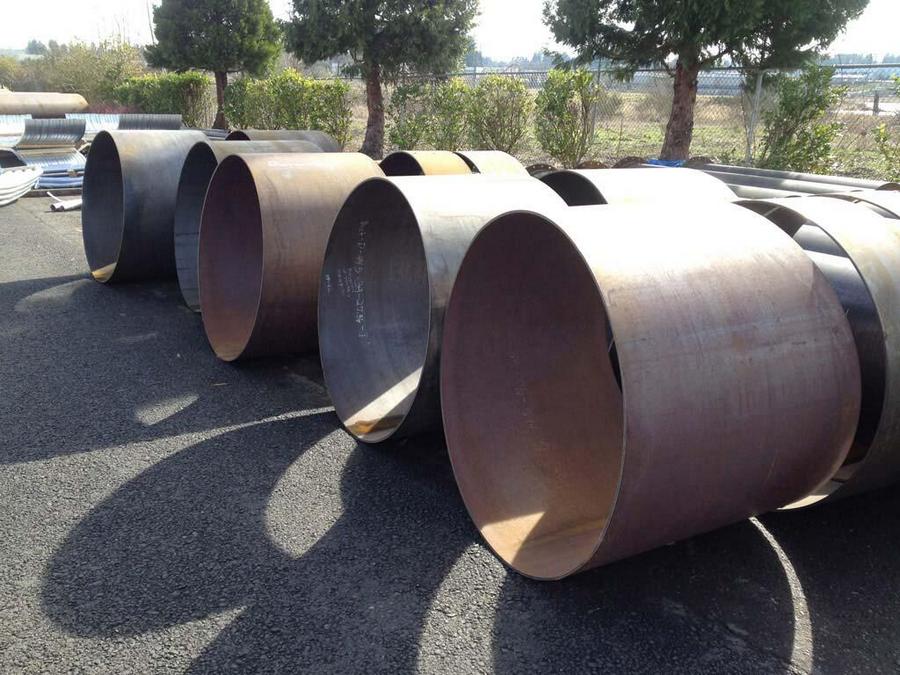 Large Diameter Rolled Plate for Refinery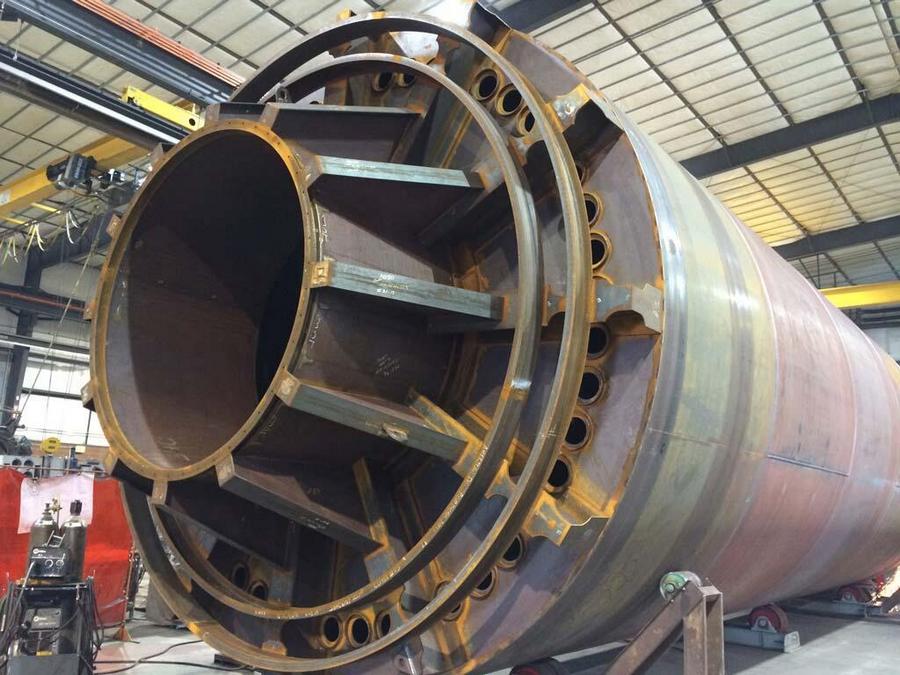 3/8" Thick Rolled Plate Cylinders for Ducting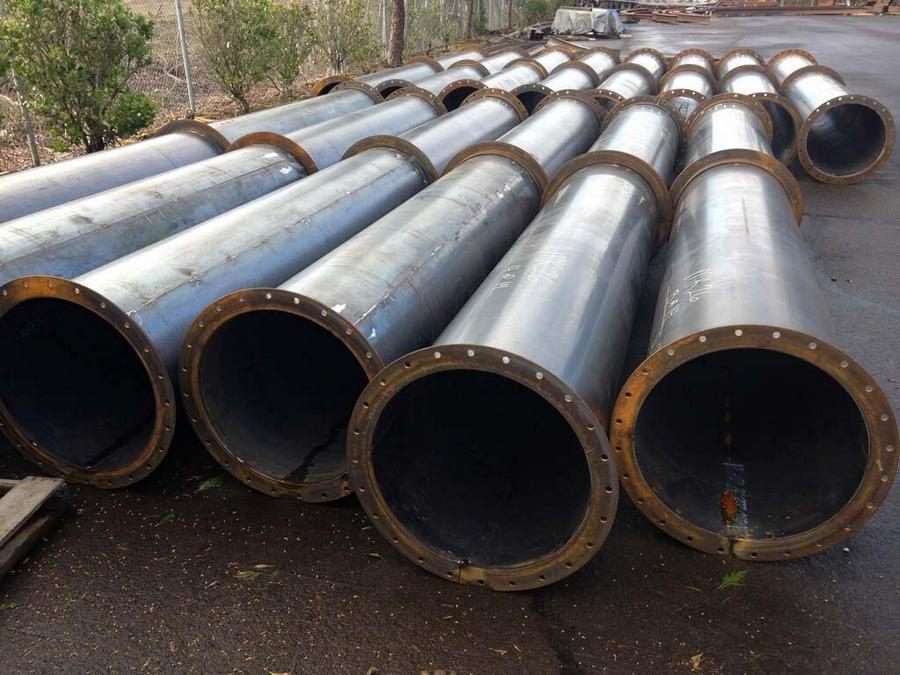 70,000# 1/4" A36 Plate Rolled, Squared, Re-Squared and Slotted for Santan Motorplex Sign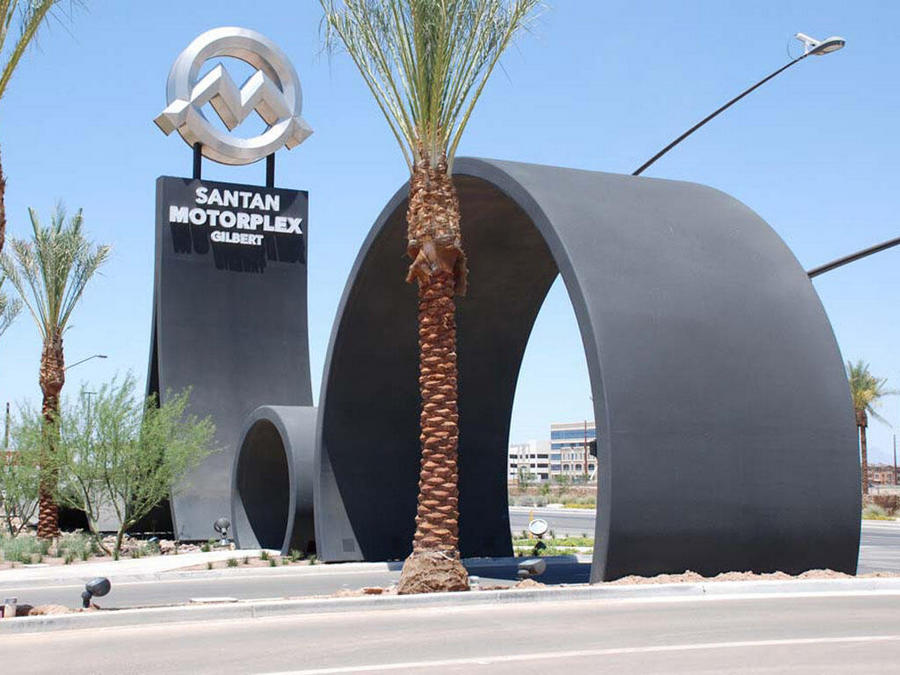 Large Diameter Plate Rolling for Manufacturing Application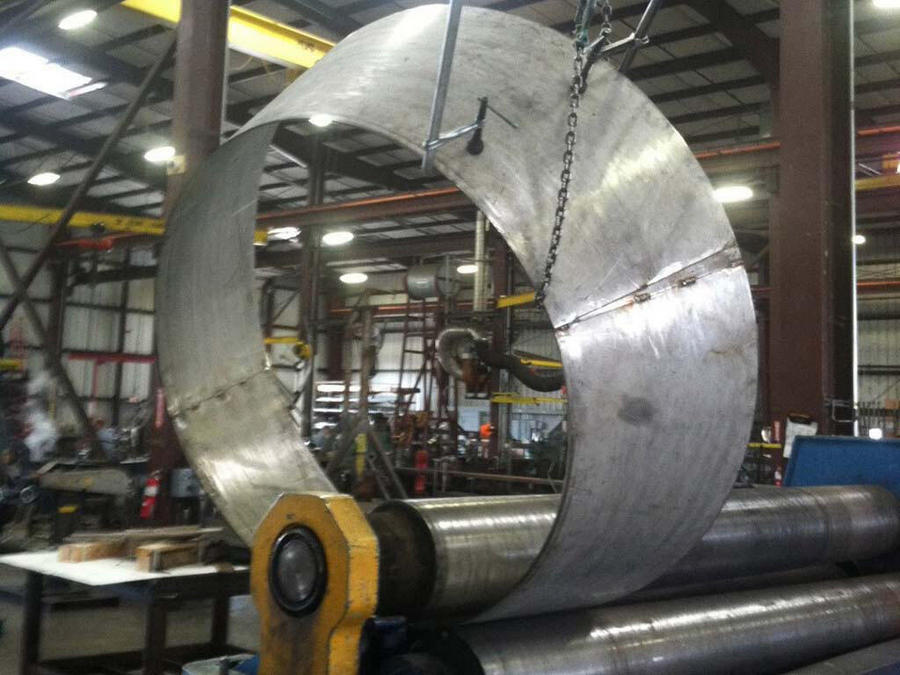 Stainless Steel Rolled Plate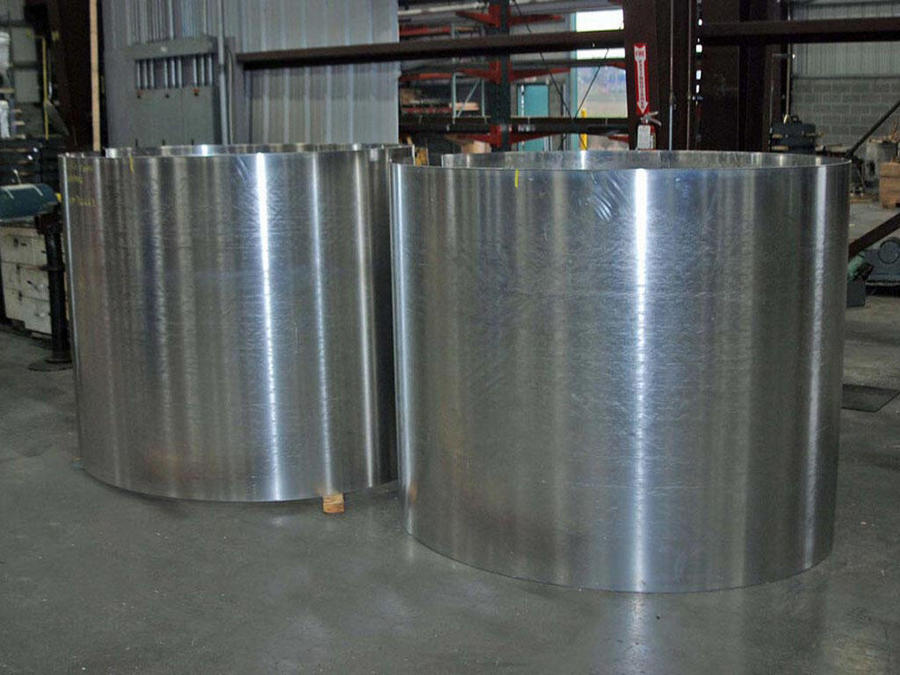 3/16" x 48" x 96" Aluminum Plate rolled to a 30" cylinder and tack welded for fishmeal tumbler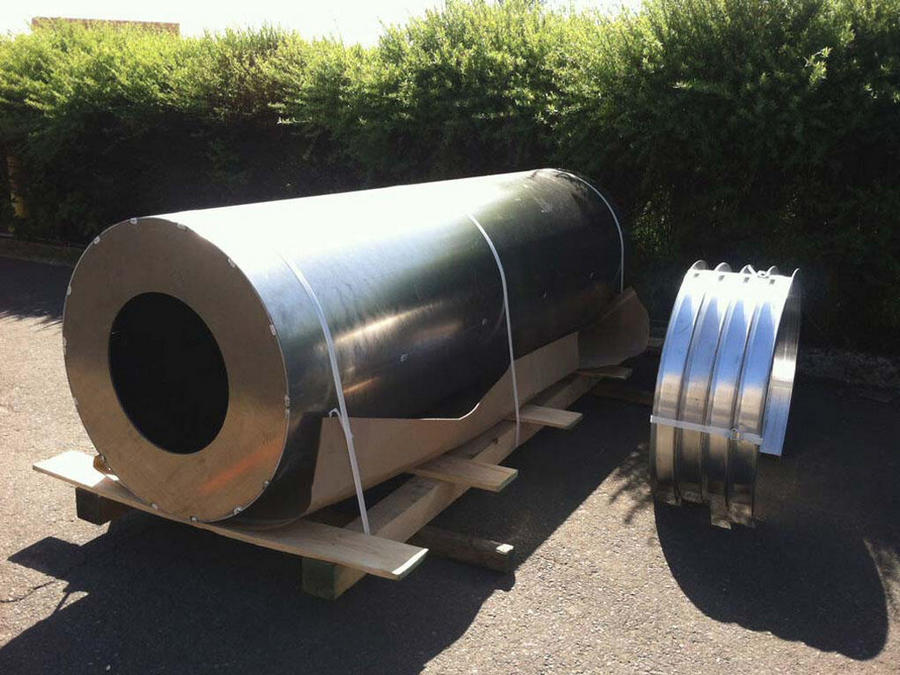 3/8" Plate Rolled for a steel plate planter box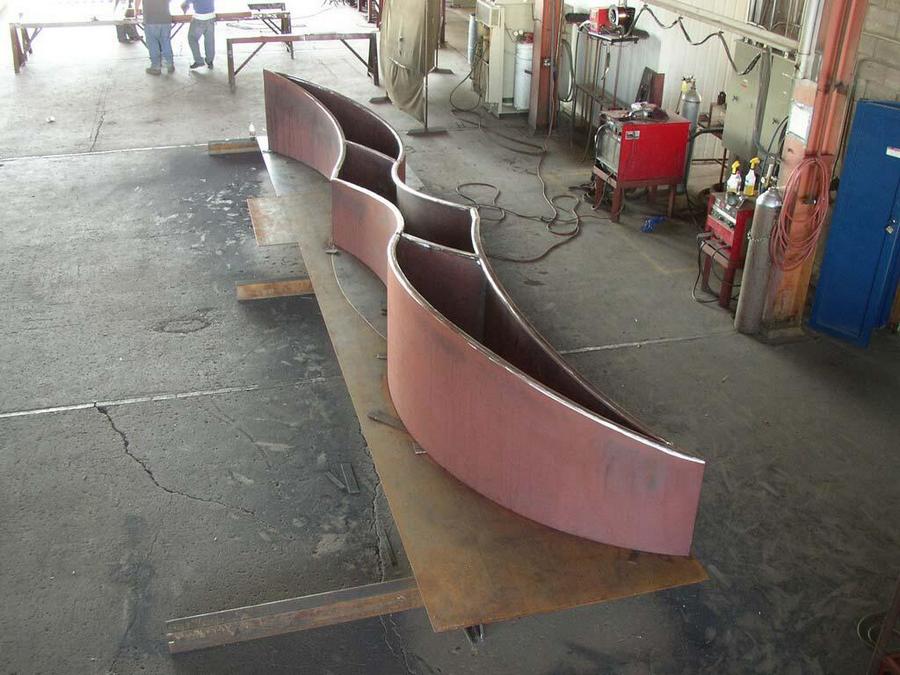 5/16" Plate Rolled into a cylinder measuring 72" in diameter and standing 8' 0" high for a mushroom plant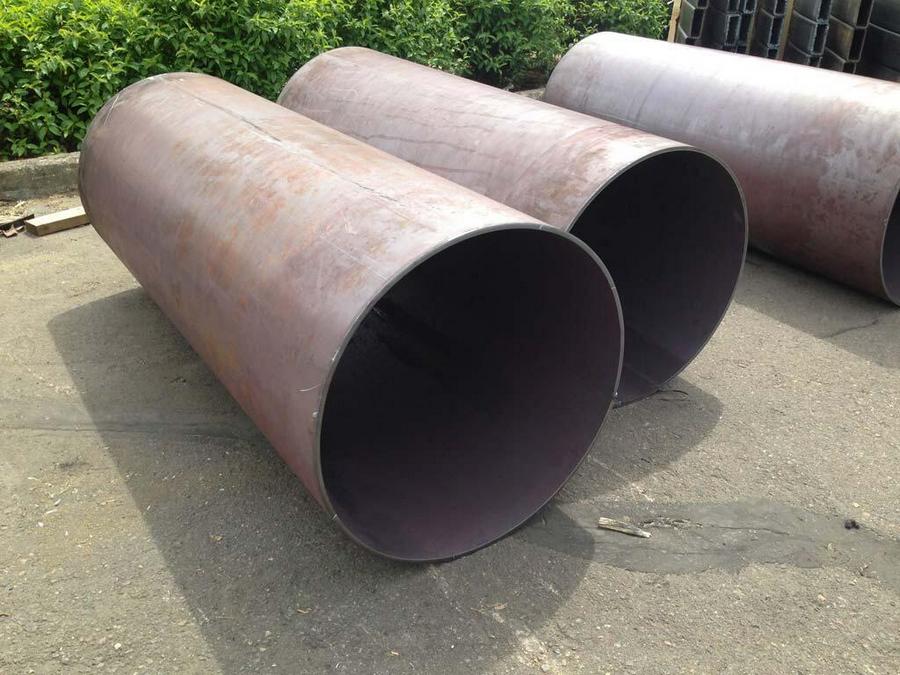 1/2" A36 Plate Rolled for a custom chute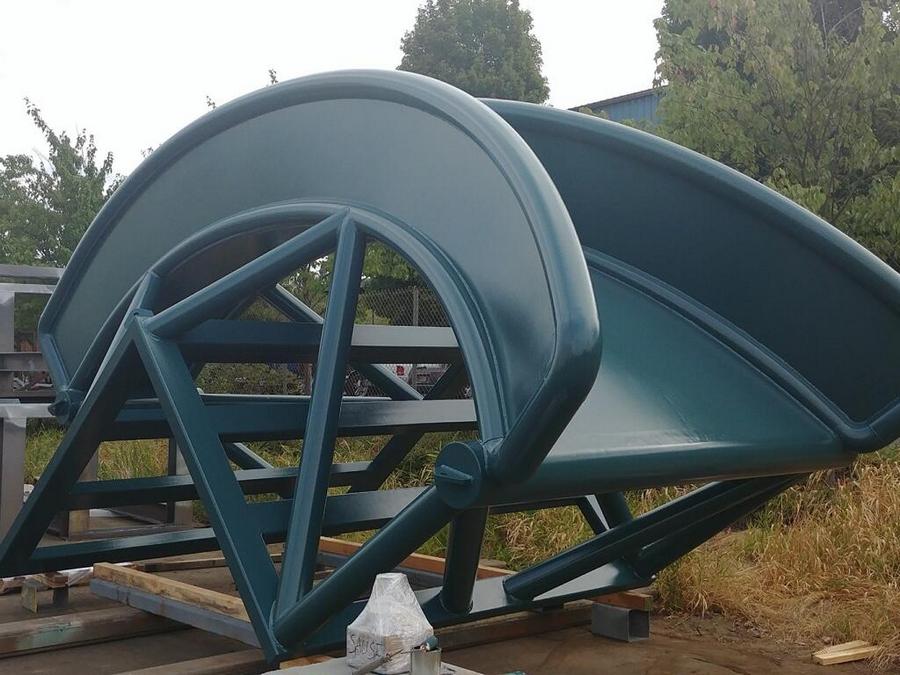 Rolled Plate for a Marine Application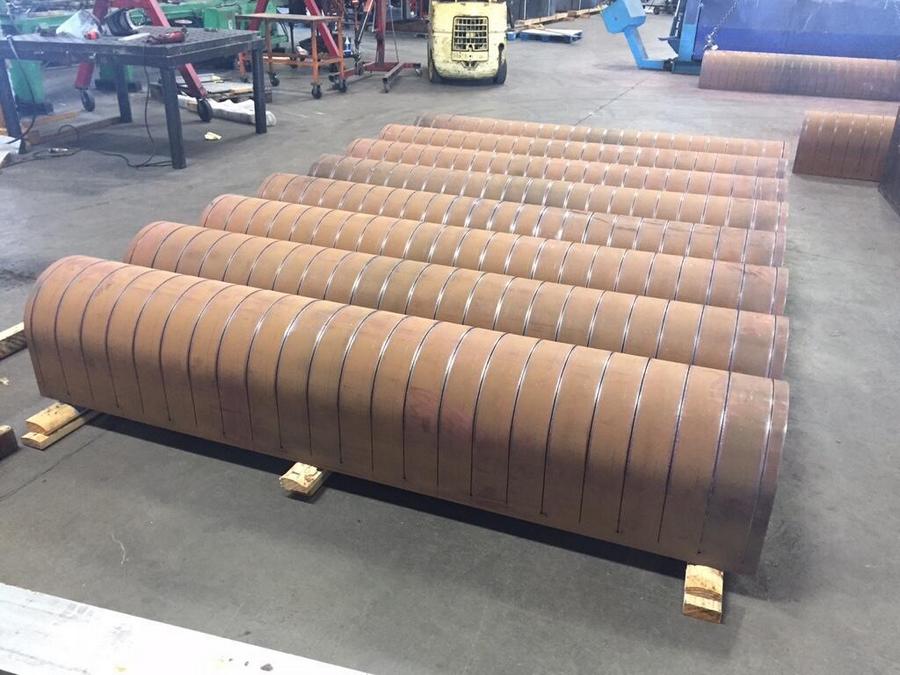 Rolled Plate for an HVAC Installation
1/4" Thick A36 Rolled Plate Cylinder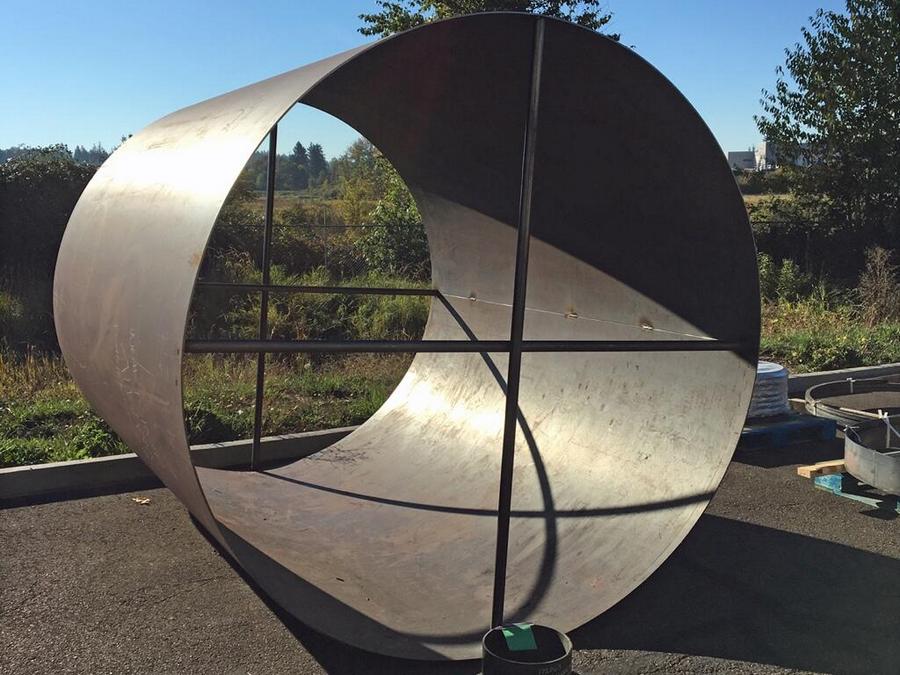 3/4" Thick A36 Rolled Plate Cylinder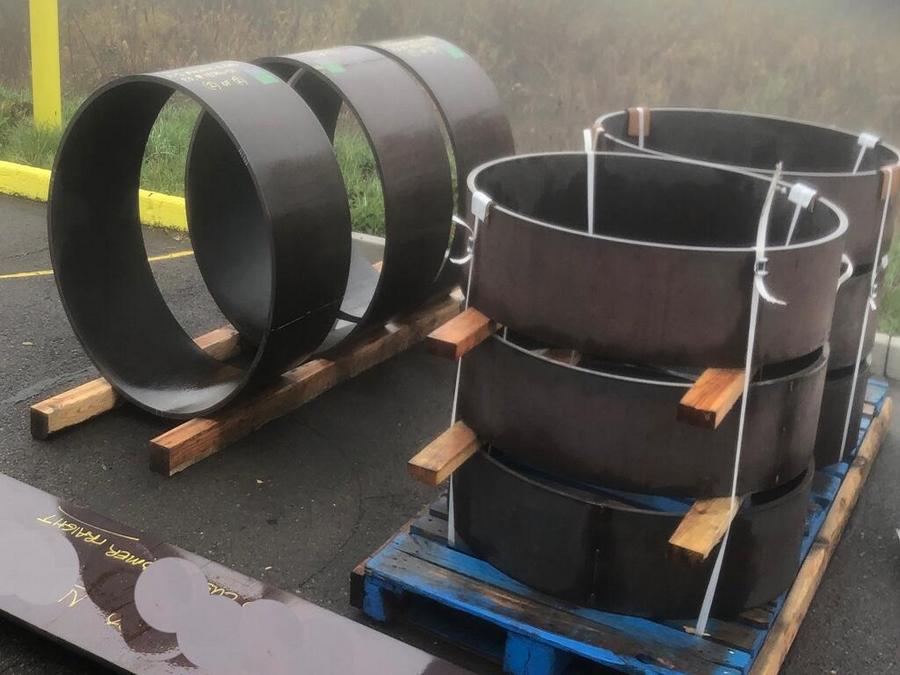 SHOW ME MORE WORK EXAMPLES!  
ARCHITECTURAL INSTALLS, SPIRAL STAIRCASES & OEM PARTS
---

Printer Friendly Version
| Section | 3D Image | 2D Image | Photo | Capacities |
| --- | --- | --- | --- | --- |
Plate/Flat Bar the Easy Way
*Plate: 2-1/2" plate up to 10'0" in width
*Flat Bar the Easy Way: Any thickness and size thru 4" x 22"
*section is dependent on thickness to width