Albina Co., Inc., located outside Portland, Oregon, has been providing customers with innovative, quality curved steel and metal services and products since 1939. A family owned and operated structural steel bending, tube bending, pipe bending, plate rolling and fabrication company that can produce virtually any metal component that needs to bend or curve without the use of pre-formed fittings.
Albina's number one goal is to provide customers with competitively priced steel bending services that produce quality products, on time. Regardless of the order size, your individual steel bending, forming and fabrication specifications and requirements will be met. With over 35 decades of combined experience Albina's friendly, qualified staff has the ability to meet all of your curved steel needs.
Brian Smith, the current President and CFO, joined the company in 1998 and represents the third generation in this well established family owned business. Bill Smith, the son of former owner John Smith, preceded Brian as President and started his career with Albina in 1965.
In addition, we are a stocking distributor for specialized ventilation and dust collection system components which enables us to supplement the products and services we are able to furnish our customers on a "one stop shopping" basis.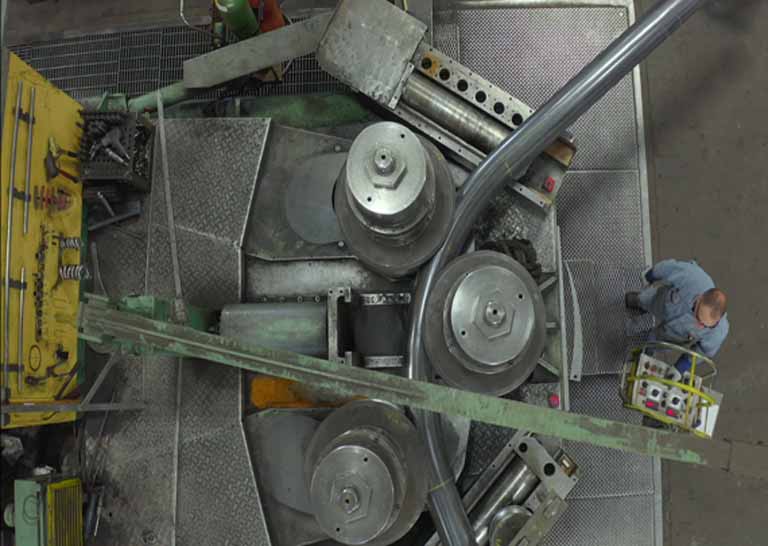 Albina's Philosophy
From its inception, Albina has striven to establish a diverse customer base requiring curved and rolled metal products. As a result, we serve customers with large volume orders and "walk-ins" looking for just one piece of curved steel. Regardless of the size of the order we always endeavor to meet our customers' needs by providing on time, quality curved steel products at reasonable prices.
In this economy, if you choose the lowest price supplier for your steel bending needs, you will get what you pay for. It may seem like a risk to purchase from a steel bending supplier that isn't the "lowest price", but consider the "costs" associated with a low price. If you choose the low price steel bender, you may deal with late delivery, poor quality or incorrect parts and lack of or delayed communication. Albina will offer you the "fair price" and we will provide you with a better quality product. We will provide you the correct parts- the first time. We will provide on-time delivery. The price of our steel bending competitors may be below ours, but when you add up all of the actual costs to receive and install the curved material, is there really a cost savings?
Albina has the ability to produce bent steel parts from customer supplied samples, drawings, fixtures or templates. Distortion estimates and samples will be provided upon request to eliminate any uncertainty by the customer.
Albina spends a considerable amount of time on Research and Development creating steel bending procedures that accommodate the customer's ever changing needs. In an effort to produce higher quality bent products, we constantly look to improve or purchase steel bending and fabricating equipment that produces unusual, non-conforming products without spending our customer's money. Every piece of steel bending equipment that Albina owns has been engineered and upgraded to perform beyond known industry specifications. In fact, the second piece of steel bending equipment we owned was built using mechanical gears and the transmission of an old Model-T. That machine is still in use today. Innovative thinking, coupled with research and development, has allowed Albina to create unique steel bending solutions for our clients.
Management emphasizes not only research and development, but machine upkeep as well. To stay on top of unforeseen circumstances (like machinery break down), we have established an intense, routine maintenance program. This has helped to increase the productive life of key steel bending and fabrication equipment.
Albina's imagination, resourcefulness and dedication to R&D and machine upkeep are key factors in our success in the steel bending industry.
Albina Office Team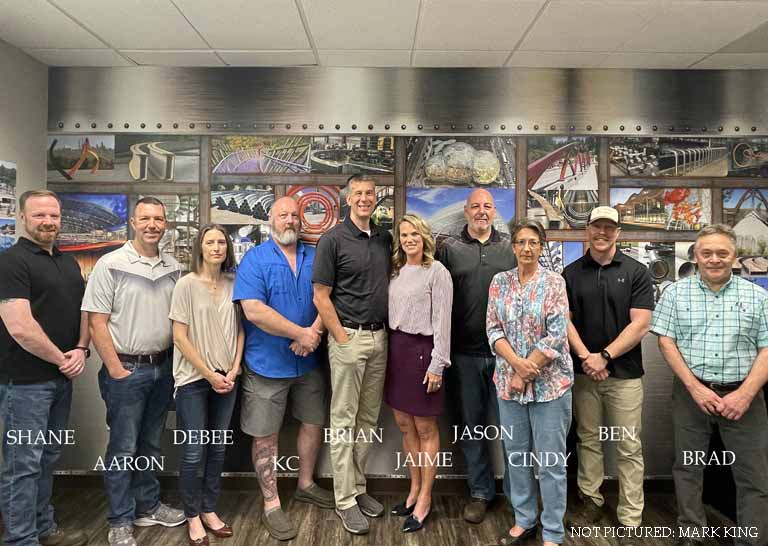 Albina Production Team