AISC Curved Member Design Guide Section 2.2.7
Using strict definitions, a spiral is a two-dimensional multi radius curve, and a helix is a three-dimensional curve with an arc in one plane and a constant slope in a perpendicular plane. However, the terms are often used interchangeably in construction. A helix is the curve formed by bending about an axis on the surface of a cylinder or cone while rising at a constant angle. This curving process is often called sloped rolling or pitched rolling. The lack of cross-sectional rotation along the member axis distinguishes spiral bending from off-axis bending.
Normal pyramid rolling machines are not capable of helical/spiral bending. Because the member must be fed into the rolls at the rise angle, specialized equipment with wide rolls is required. This specialty bend also requires adequate clear space to properly position the member in the rolls. Fitting a spiral staircase also requires significant shop floor space. Rectangular bars bent into a helix are often connected near the top of slender steel stacks to suppress vortex-induced vibrations.
Albina has mastered the art of spiral bending with our in-house developed induction bending process. We are the leader in spiral bending in the US and Canada. Our induction heat source and increment bending method produce extremely tight spiral bends to industry leading quality AESS standards.
Why Choose Albina as your Spiral Bender?
Our Induction Heat Source and Increment Bending Method Produces Extremely Tight Spiral Bends to Industry Leading Quality Standards!
Albina doesn't split HSS prior to bending and then weld the sections back together to meet your needs, our HSS members are bent as HSS members.
Albina doesn't fill your HSS with other structural members. We are able to bend HSS members without adding extra material and weight and are still able to meet or exceed your quality requirements.
Albina will bend your HSS stringers out of HSS material; we don't make "built up stringers" out of plate.
Developed Elevation View
The developed elevation view shows the component in a flattened or unwrapped view. The degree of arc in plan relates directly to the overall run in developed elevation.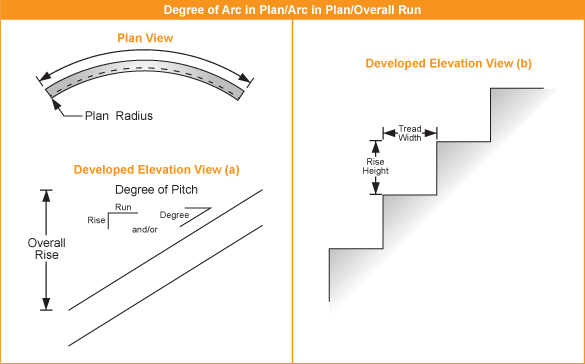 What We Need to Know:
Radius in Plan View
Degree of Arc in Plan View of Spiral Section Only
Overall Rise of Spiral Section Only
Degree of Pitch
Direction of Rotation, Interpreted as Clockwise or Counterclockwise Up
---
Spiral Stringers Rolled out of Square & Rectangular Tubing and Channel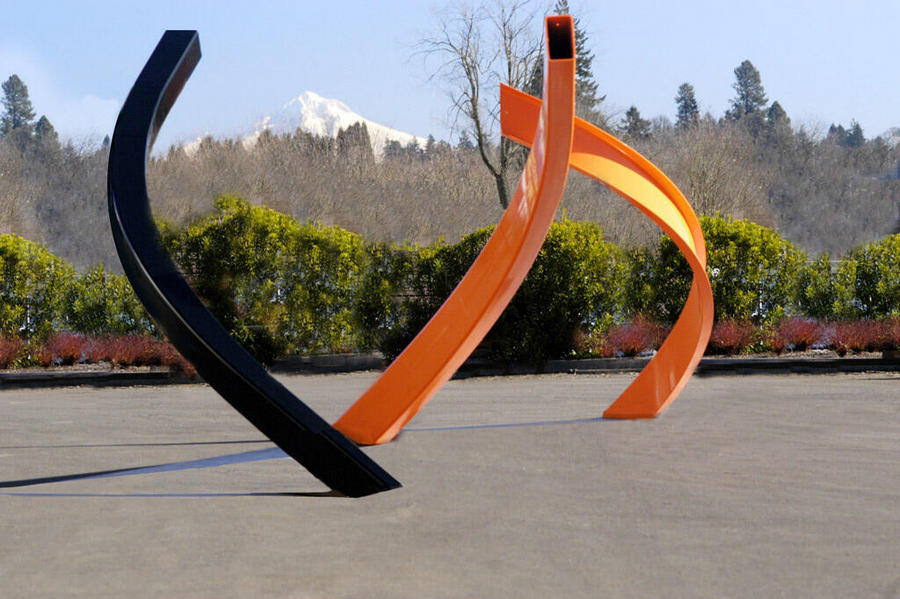 Spiral Stringer Rolled out of Square Tubing for the American Airlines Headquarters Spiral Staircase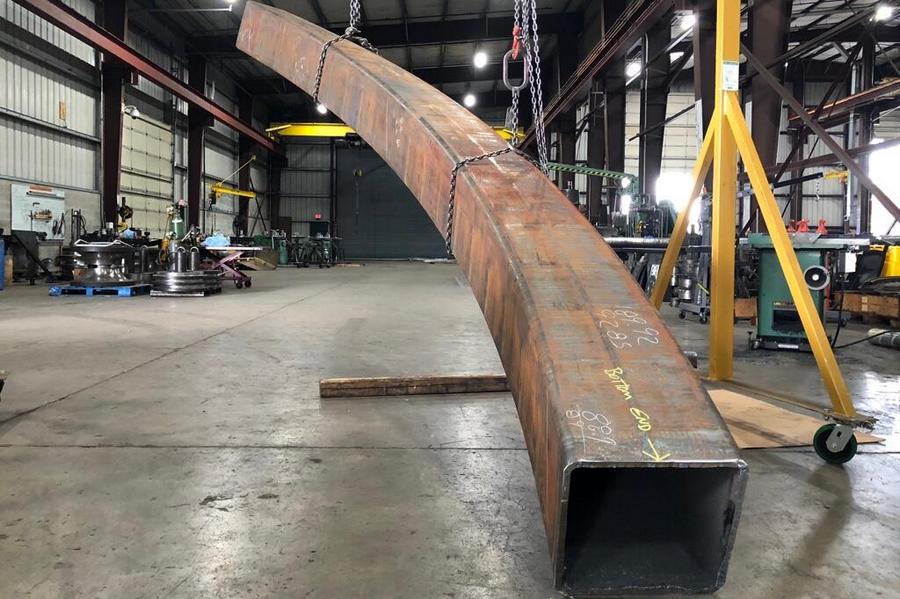 VERY TIGHT Spiral Stringer TS 16" x 12" x.625" Wall Bent the Easy Way to a 77" Center Line Radius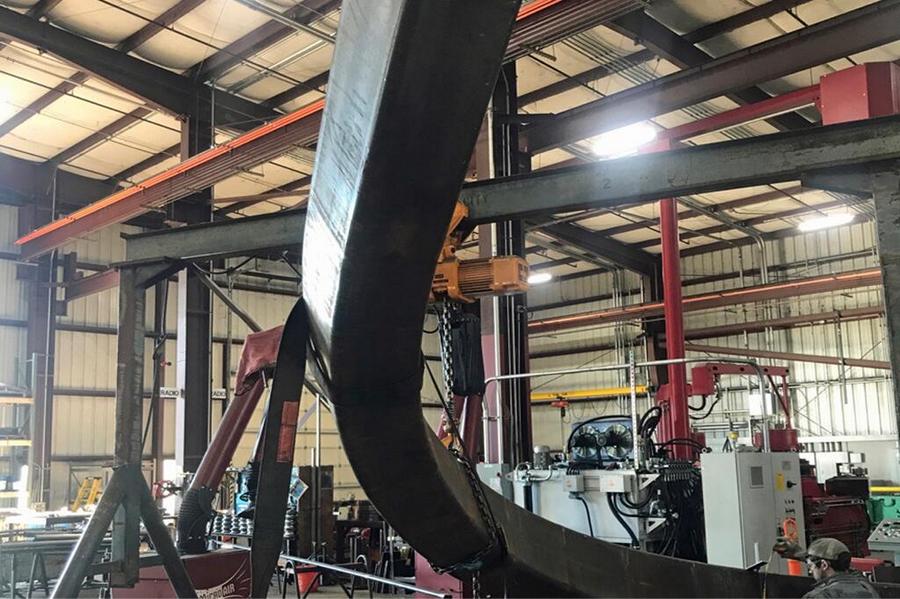 Spiral Stringers Rolled out of Rectangular Tubing for a Rotunda Spiral Staircase
Spiral Stringer Rolled out of Rectangular Tubing for a Spiral Staircase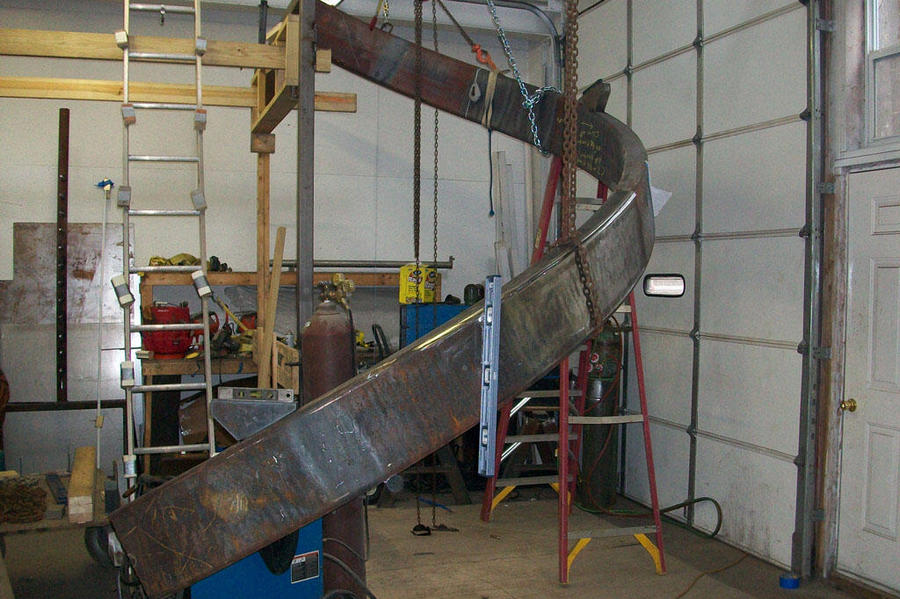 Spiral Stringers Rolled out of Rectangular Tubing for a Spiral Staircase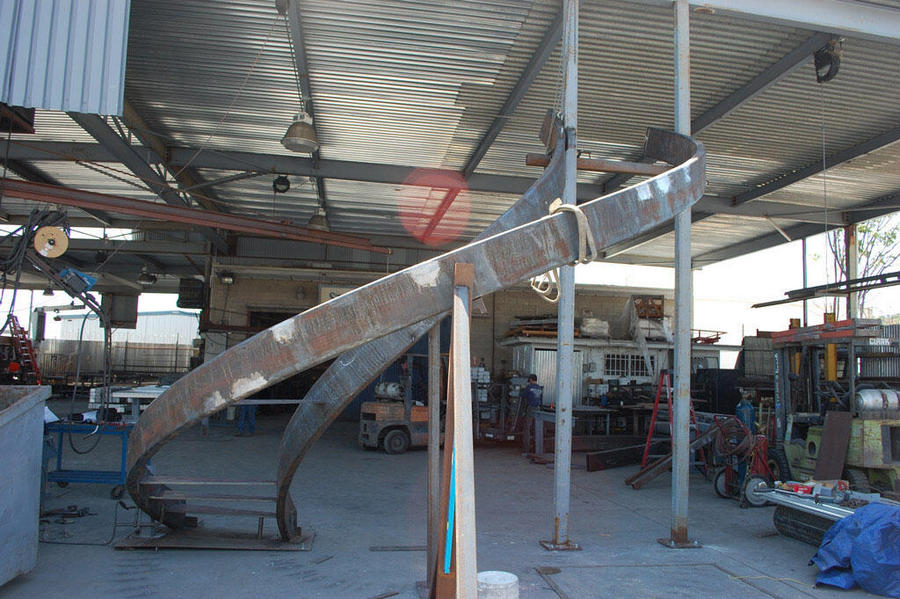 Spiral Stringer Rolled out of Rectangular Tubing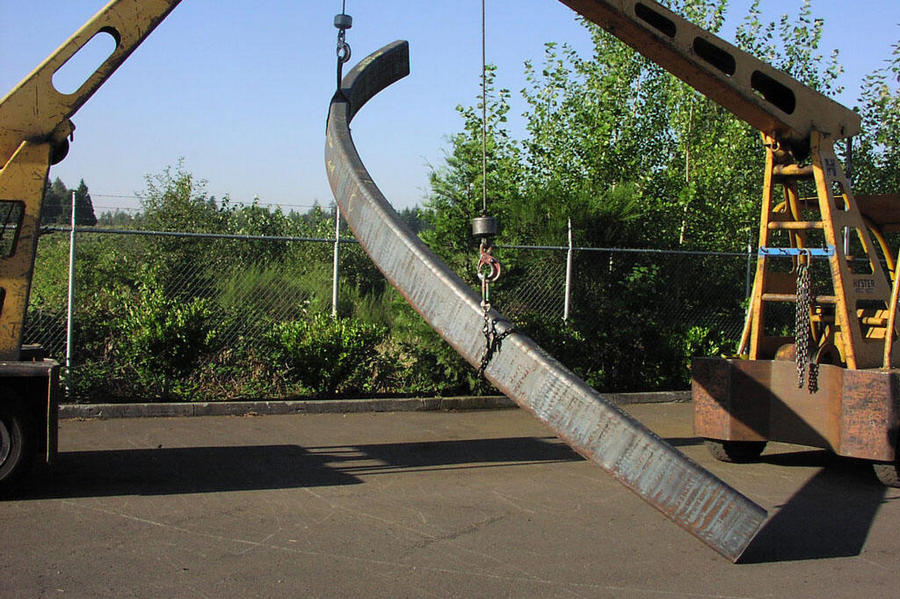 Spiral Stringers Rolled out of Channel for a Spiral Staircase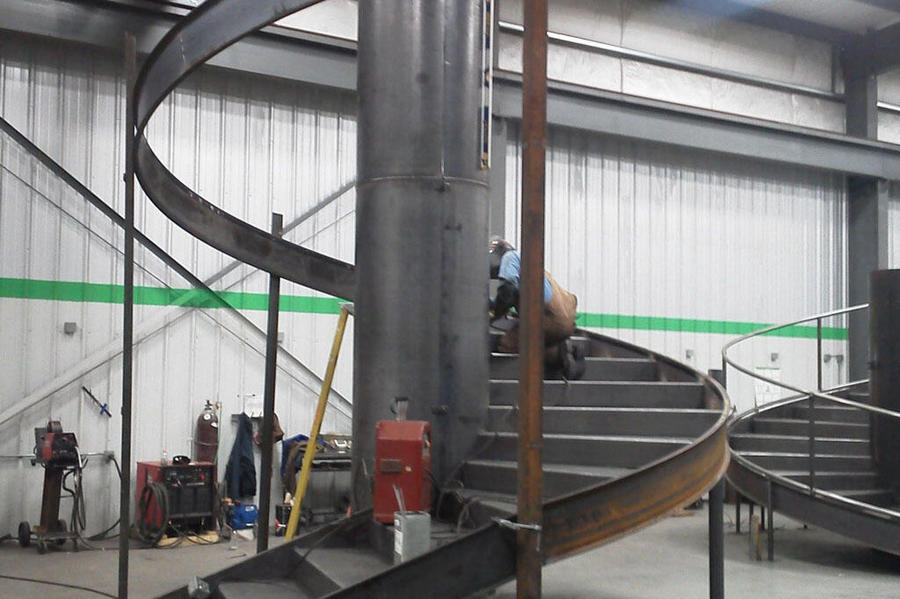 Spiral Stringer Rolled out of Pipe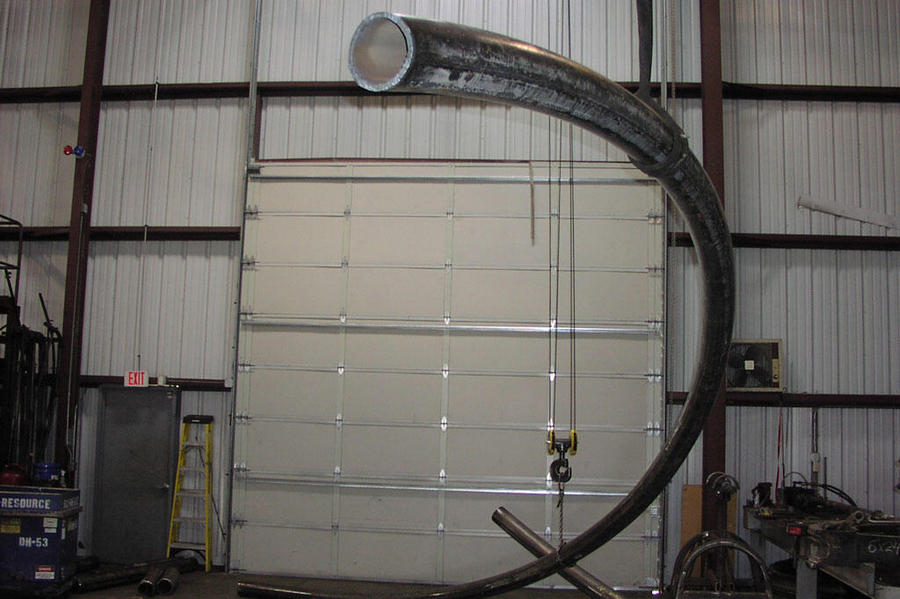 Spiral Staircase made of Rolled Plate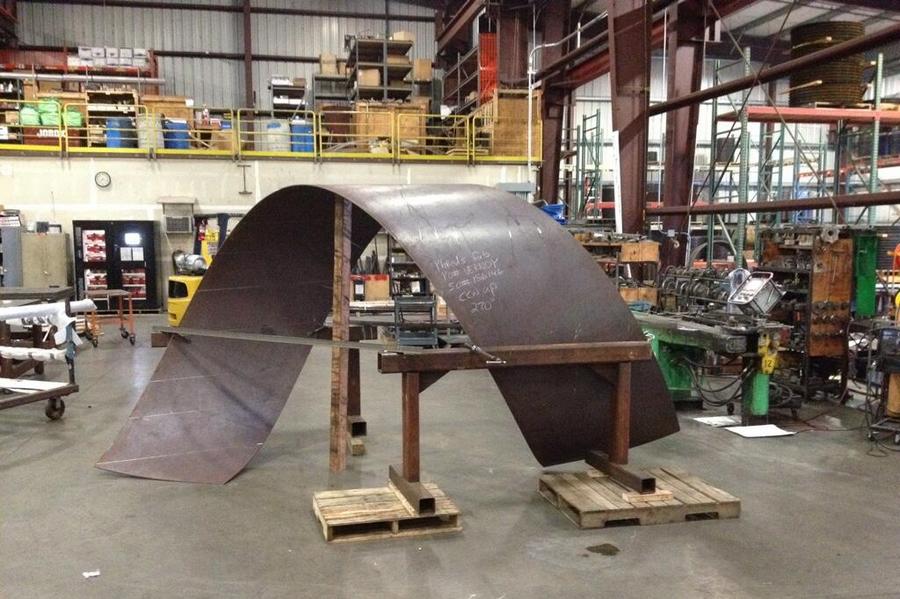 Spiral Stringers made of Rolled Plate for a Circular Staircase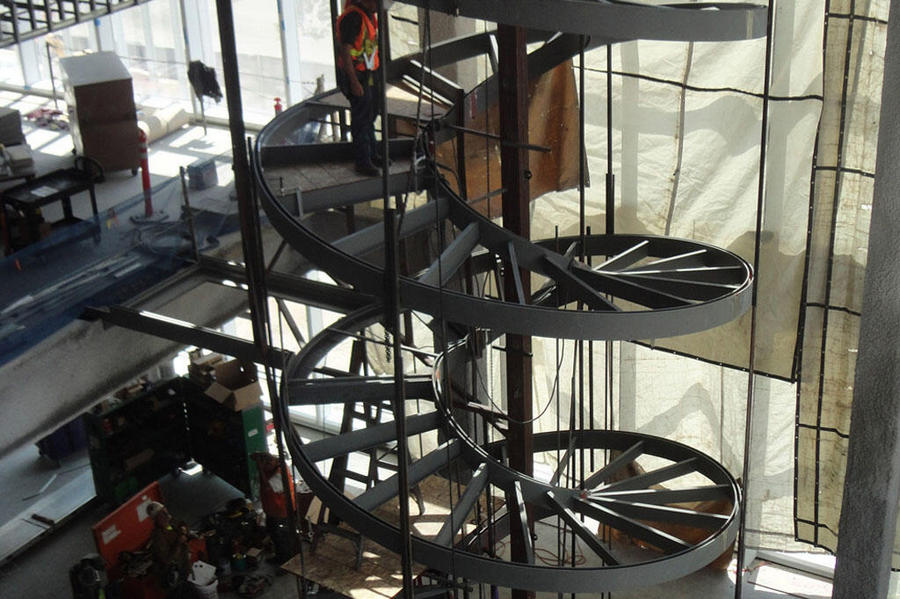 Spiral Stringers Rolled out of Rectangular Tubing for a Spiral Staircase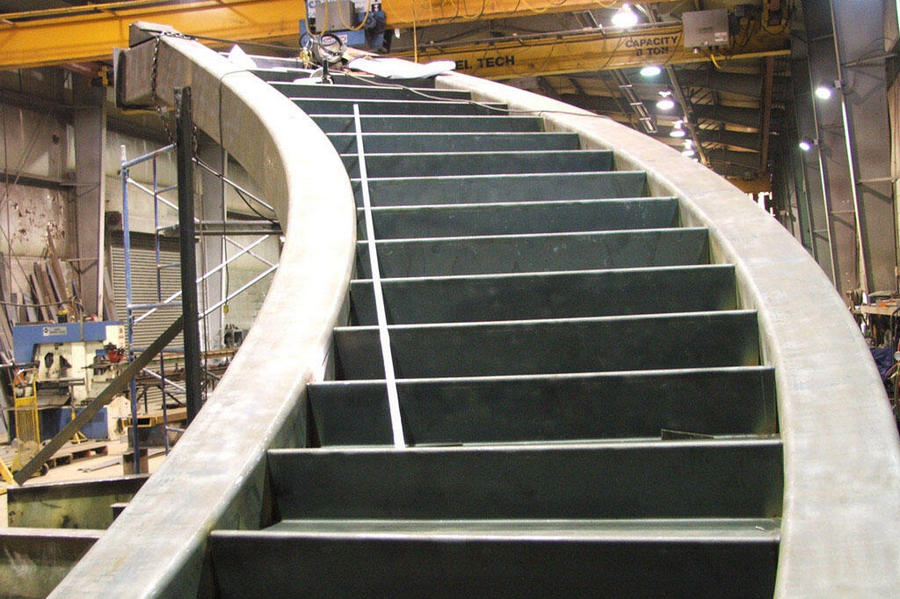 Spiral Stringer Rolled out of Pipe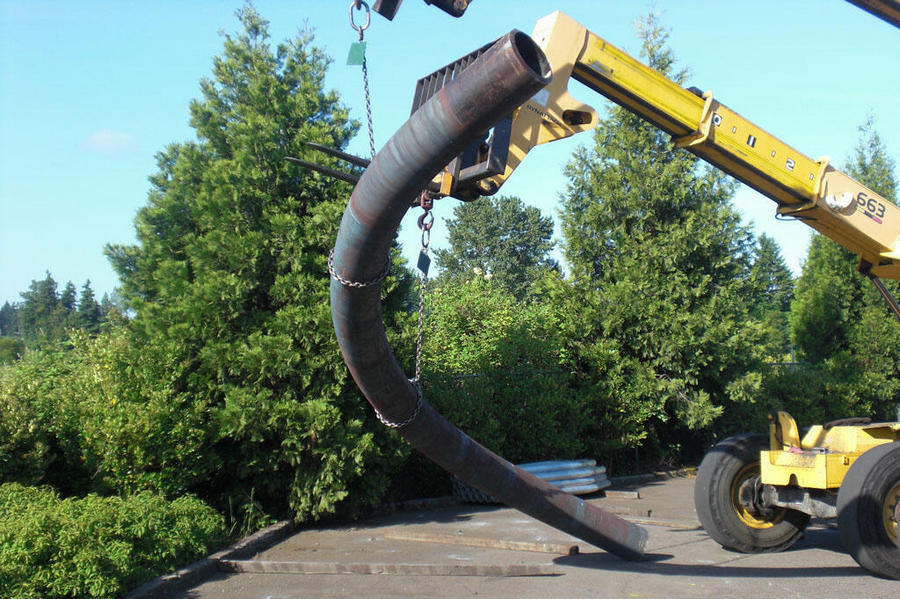 ---