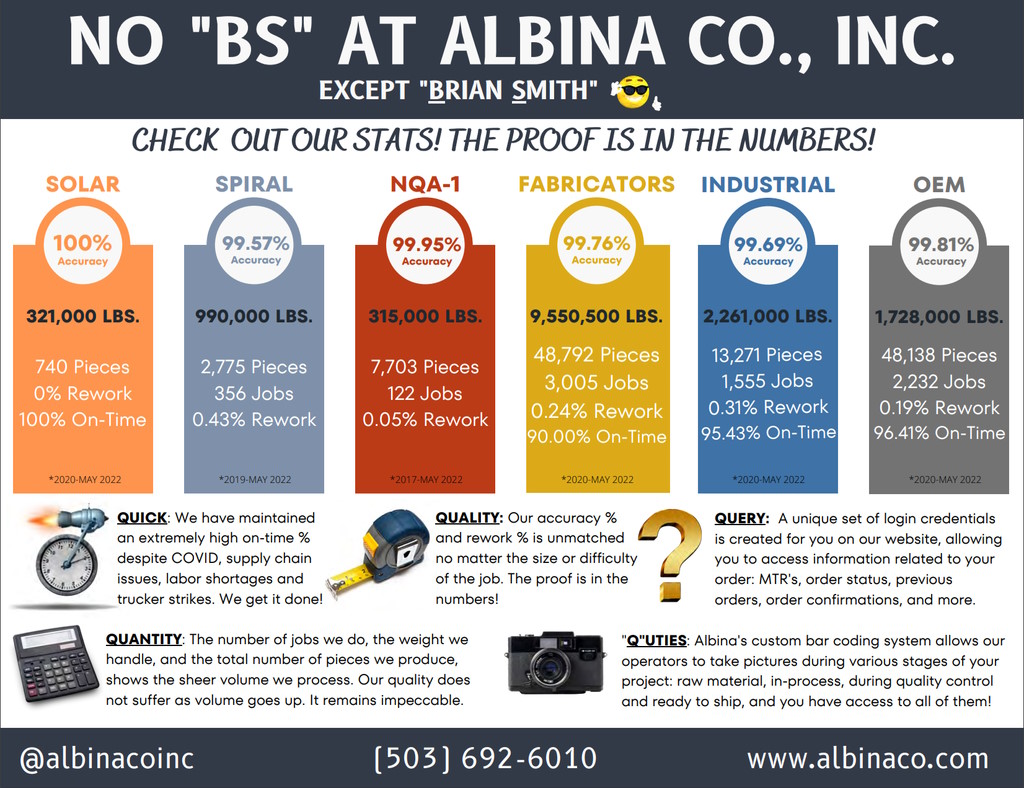 SKILLED PROFESSIONALS ON STAFF HAVE THE ABILITY TO WORK WITH 3D DRAWINGS IN: SOLIDWORKS, BENDPRO AND AUTOCAD
What Benefit Does that Provide to You?
Ability to work with multiple 3D drawing formats

Coordinate Measuring Machines (CMMs) allow information to flow bidirectionally between measuring machines and tube bending controls which automates the corrections process and also allows offline programming and remote part data storage capabilities

Improved accuracy, elimination of data entry mistakes and increased production
ALBINA IS QUALIFIED TO PROCESS NQA-1 (NUCLEAR QUALITY ASSURANCE) WORK FOR CERTIFIED NQA-1 SHOPS
We have a Quality Manual and Program

We welcome shop visits and audits

We successfully work under others NQA-1 Certifications

We understand and utilize NQA-1 material handling and marking requirements

Material segregation

In depth cleaning to minimize carbon contamination

Limited items allowed to contact NQA-1 materials

Detailed level of documentation and inspection requirements

Workers are indoctrinated into customer's NQA-1 program
COST VS. PRICE
The price of a competitor might be below ours, but when you add up all of the actual costs to receive and install the material, is there really a cost savings?

If you chose the lowest price, you may deal with late delivery, poor quality or incorrect parts and a lack of or delayed communication.

If you choose the lowest price, you will get what you pay for.
RISK VS. REWARD
It might seem like a risk to purchase from a supplier that isn't the "lowest price."

The rewards are greater than the risk. Albina will provide you with a "fair price" and we will provide you with a better quality product. We will provide you the correct parts the first time. We will provide on-time delivery.

Our trained, experienced staff will provide unmatched service and communication related to every aspect of your project.
OLD AND NEW BENDER
In business since 1939.

Knowledgeable and experienced staff with the ability to see your project through from the design phase to the delivery of your product.

50,000 sq. ft. facility with new, innovative machinery, processes and capabilities.

Industry leader in Research and Development & Technical Expertise.
VALUE ADDED SERVICES
Albina has the capabilities to bend various pipe, tube, and structural steel that range from very small to very large in size.

Supplemental metal fabrication: certified welders, cutting, drilling, punching, sand blasting, painting, threading, end finishing, etc.

Plate rolling: Ability to roll 2-1/2" plate up to 10'0' in width.

Ability to split and straighten any size wide flange to mill tolerances.