The color of the season around here is Red! Usually you wouldn't want to have the color red associated with a small business (ha!), but the signature red color we are seeing a lot of this season is our new DAVI MAV Variable Geometry K30 2-1/2" x 10 ft plate roll! The machine arrived in our shop a few weeks ago and will be up an operational by 12/31! This is our gift to you as this machine will drastically increase our capacity for plate rolling and we are excited about the opportunity to bid your plate rolling needs!
The overall capacity for standard A36 plate is 10 ft x 2½". For higher yield material (example 60 ksi) the machine can pre-bend and roll the following examples:
10 ft x 1 5/8″ thick to a 61″ outside diameter.
9 ft x 1 3/4″ thick to a 96″ outside diameter.
10 ft x 3/4″ thick to a 30″ inside diameter.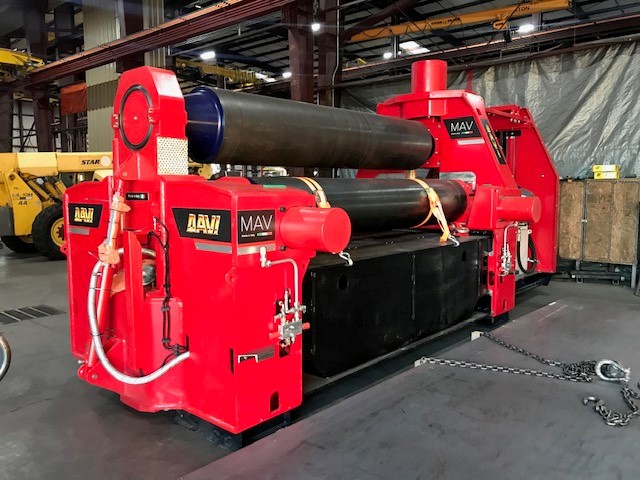 With 2019 wrapping up, we also wrap up our 80th year in business. What an amazing accomplishment. Most businesses are not fortunate enough to see this type of longevity. 2019 has been a strong year for Albina where we have seen our national "footprint" expand into states where we were not previously providing bent materials. I think it is safe to say that Albina has a presence in almost every state in the US, which is a tremendous accomplishment for a company that started as a small, local shop. We would not be where we are at as a company without the efforts and dedication of the Albina team who strive to exceed your expectations in quality workmanship, on-time delivery, customer service, communication, equipment and procedures. We are so very fortunate for the amazing customers and vendors we work with as well. You make coming to work every day a pleasure. We are looking forward to 2020 and all the new opportunities and unique jobs we hope to work on together!