Mobile Friendly Website Now Available!
In recent news, we released a "mobile-friendly" website (
www.albinaco.com
) that provides fabricators, architects, engineers and many more with vast interactive calculators, reference materials, and capacity charts to assist with all of their bending calculations and provide answers to their technical questions. The "mobile-friendly" site is completely responsive and is easy to use and navigate on your mobile devices as well as your desktop.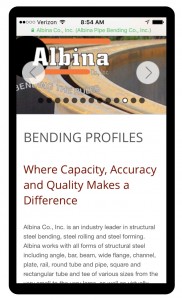 Albina Co., Inc. offers custom
bending calculators
designed to assist customers with required bending calculations, and to provide bending tolerances and tangent material requirements needed to accurately bid a job. In addition to the general bending calculators, Albina also offers a
Spiral Math Calculator
to allow customers to enter known data for spiral stringers, automatically calculate Degree of Pitch and Arc Length, and save the calculated information in their files for future reference or submit a report directly to Albina Co., Inc. for a quote! It is that simple. Additional highlights include a
virtual tour
of the company, material
capacity charts
and
bending profiles
,
brochures
,
technical articles
,
industry links
and numerous work examples including professional photographs of installed projects and videos of actual
bending processes
. Albina has several easy to use forms for requesting information or for obtaining a quote. Online ordering is also available through Albina's site for
Duct Systems and Component Parts
and a secure login can be obtained to view pricing and place orders from your smart phone or desktop. "The driving force behind releasing a new "mobile-friendly" website was to create a seamless user experience for our customers no matter what device they use to access information. We wanted to provide an informational tool rich with easy to read capacity charts and stunning visual images to give the user a quick view into our capabilities. We also wanted to provide accessible tools to assist users in their daily job functions." –Brian Smith, President Albina Co., Inc.