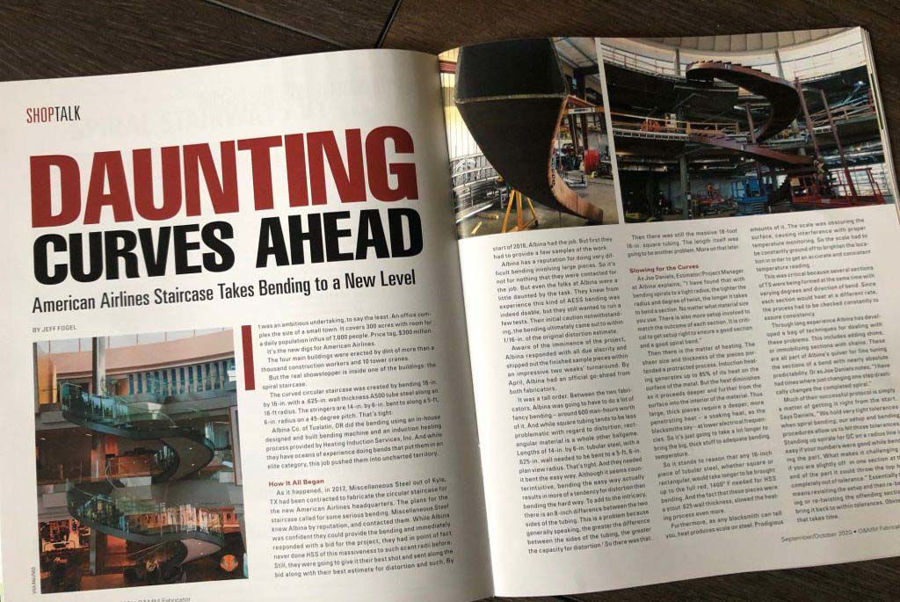 "Daunting Curves Ahead"- Article in O & M Metal Fabricator
A recent issue of O & M Metal Fabricator Magazine, produced by NOMMA, features a case study written by Jeff Fogel with input from key members of the Albina Team, on the great spiraling feat it took to create the spectacular spiral staircase at the American Airlines Headquarters in Fort Worth, Texas.
We spiral bent Tube Steel 16″ X 16″ X .625″ WALL A500 GR B bent down to a an 18 foot radius, using our induction heating process to create the spiral stringers for the staircase. In addition to the 16″ square, we produced another set of spiral stringers consisting of Tube Steel 14″ x 6″ x .625″ wall REALLY tight, exposed and bent to a 5′-6″ radius on a 45° pitch. These are the type of bends that ONLY Albina can do! The 1.7 million-square-foot complex, dubbed the "Trinity complex," consists of four seven-story buildings. It cost nearly $300 million to build and houses over 6,500 employees. There were 10 tower cranes on the project and more than 1,000 construction workers on-site during the peak of the project. Viva Railings LLC (Photo credit & Glass/Railing Fabricator). Read "Daunting Curves Ahead"