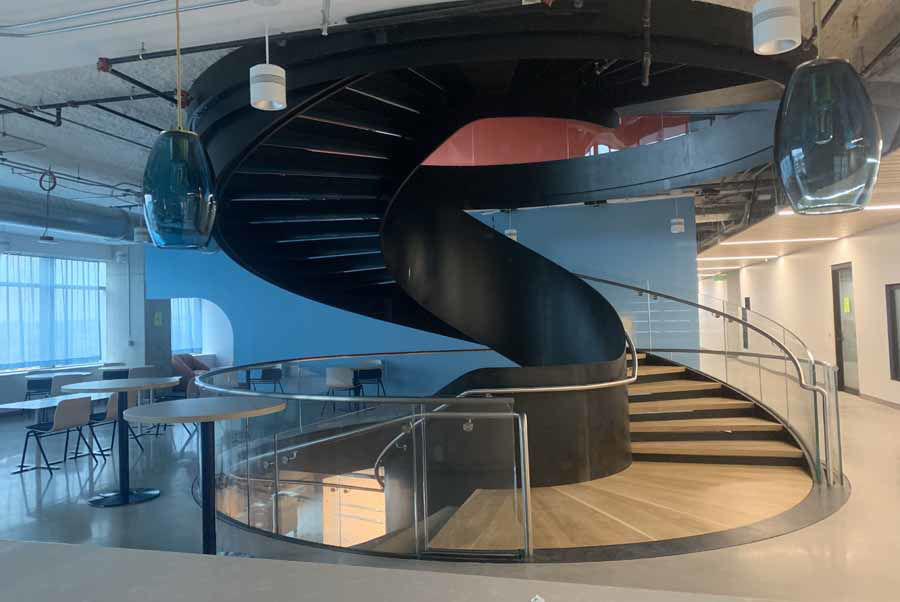 Custom Spiral Staircase for Seattle Area Tech Company
We recently spiraled nearly 100 pieces of plate which formed the spiral staircase stringers of a multi-level spiral staircase for a major tech company in Seattle, WA. We also rolled 37 pieces of stainless steel tubing for the handrail. Materials rolled included:

1" THICK A572 GR 50 PLATE IMPORT MATERIAL
Phase 1: Spiral roll the easy way a total of 80 pcs.

1" THICK A572 GR 50 PLATE - 2" THICK A572 GR 50 PLATE
Phase 2: Bevel, Roll and Trim a total of 20+ pcs

1½" SCH40 T304 S/S #4 FINISH
Phase 3: Spiral roll 37 pcs of handrail.
We currently have three plate rolls in our facility ranging from small to large capacity. We just received a new CNC plate roll and have purchased another medium capacity plate roll to arrive in November. Contact us for all of your plate rolling needs!