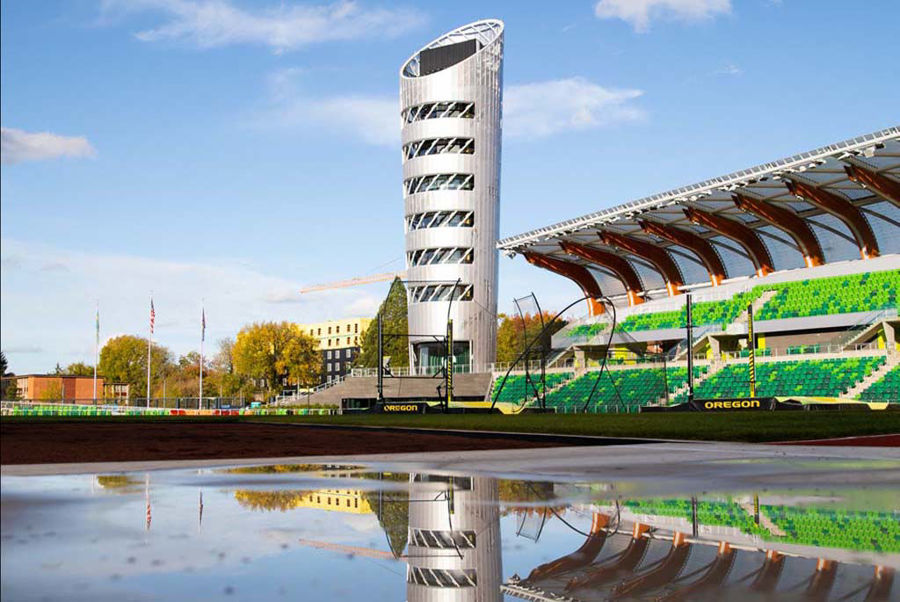 Curved Steel Roof at Renovated Hayward Field
Photo Credit: University of Oregon Track & Field
As the "Front Runner in Steel Bending", we "Tower Above the Rest!" We were thrilled to be an integral part of reconstructing Hayward Field at the University of Oregon. Hayward Field is the world-class home to @OregonTF. Albina created the curved steel diaphragm used to support the roof structure and provided various bent materials to help construct the landmark tower at the northeast corner of the facility. Designers wanted to create a structure that was open and airy, allowing spectators to enjoy great views and natural daylight, in an intimate environment. See https://linktr.ee/AlbinaCoInc for pictures, video and more!
For the roof, we rolled 600 lengths, varying from 28'-0" to 75'-6" long, of 14" OD X .375" / .500 WALL A500-18 GRADE B&C. That is 1,500,000# lot weight (750 tons) of rolled steel, 32 inbound trucks and 90 outbound trucks. The 14" OD material was laid over the top of the plate that we bent for this project. We bent 300 lengths, varying from 3'-0" to 37'-0" long, of PLATE 1½" THICK X 16¾" WIDE A572 GR. 50 and PLATE 1½" THICK X 10" WIDE A572 GR. 50.
In addition to the iconic roof, the tower at Hayward (187 feet tall) creates a community landmark honoring the first 100 years of track and field at Oregon. We rolled 400 lengths, varying from 20'-0" to 60'-0" long, of Tube Steel 8" X 4" X .500" WALL A500 GR B, 8-5/8" OD X .625" WALL A500C WHEELED, 8-5/8" OD X .375" WALL A500C WHEELED, 8-5/8" OD X .250" WALL A500C WHEELED, and Flat Bar 3/8" X 4½" A36. That is 330,000# lot weight (165 tons) of rolled steel, 10 inbound trucks and 16 outbound trucks!
Our work was extremely precise, and we had zero rejected parts by the fabricator, Fought & Co., Inc. When measuring the work points during fabrication, they never once had to heat up or adjust the bending. To make the erection process go smoothly, we marked every 3-4 feet on the centerline back of the pipe to assist in the layout process for the diagrid "fish-mouth" stubs, and up-stands for the roofing system.
Check out the video below when Ashton and Brianne Theisen-Eaton Tour the Renovated Hayward Field.