Duct Systems and Component Parts
Albina has been a distributor of component parts for dust and air handling systems since 1969.
Standard duct and components are shown in the image below. For more product information, scroll down to view our stocked items.
Albina can drop ship Clamp Together Ducting and Standard Component Parts direct to your location. Albina's inventory helps local contractors save time and expense with standardized component parts. Stocked parts are available for immediate shipment which means you can complete your project on time without costly delays. Non-standard component parts can be ordered or fabricated upon special request. All orders can be taken via phone, fax or email.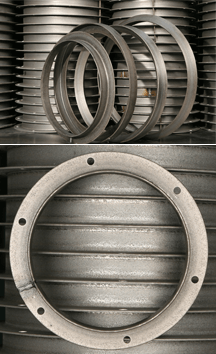 Steel angle rings are used widely in joining ductwork together in different applications. Angle rings 3"-5" are pressed and 6" and larger are rolled from structural angle iron. Rolled rings allow perfect fitment on your pipe and make vanstoning easier. Each ring is electronically measured and recorded to ensure proper diameter and are punched on state-of-the-art computer controlled equipment to ensure burr free holes. Rings are stocked in black iron and are ready for immediate shipping or pick-up. Quality you can trust!
*Custom rings in carbon steel, stainless, aluminum electro-plated and galvanized available upon request with short lead times.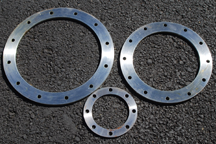 Mild steel, non-pressure rated, flat rings; utilized where piping sections of heavy guage tube or pipe are connected. Primarily used in Pneumatic Conveying or Chip Conveying Systems. All plate flanges are predrilled for easy alignment and installation. Plate flanges are available from 4.5" through 26" diameter.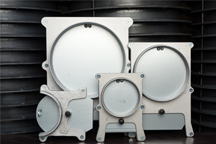 Cast aluminum cut-offs with galvanized steel slide gate. Cut-offs are used to balance systems, or save air, heat and power when a machine is not in use. All cut-offs are furnished with set screws so the blade may be firmly placed for volume control. Stocked sizes include 3" through 14" diameter (half and full).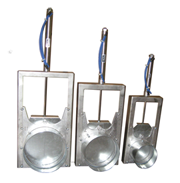 Pneumatically operated/electrically controlled gates are able to provide collection where and when needed. By connecting the gate's solenoid to virtually any electric source, and supplying 90 psi from the compressor, the gates can open and shut upon requirement.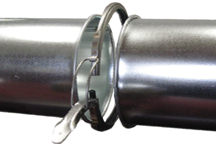 Our clamp together duct system utilizes a heavy duty, all welded, all stainless clamp to encompass and securely connect the rolled lips pre-formed on the ends of the components. Clamp Together Ducting has an adjustable band to provide extra assurance in wet or high pressure (positive or negative) applications and oil mist applications.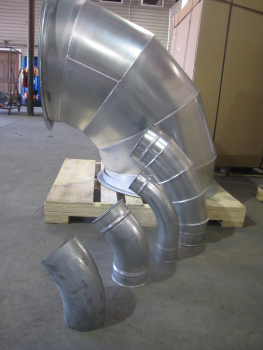 Stitch Welded, Gore/Segmented & Tubed Elbows
All styles, materials, radius and degrees. All available with rolled lips, flanged ends or raw end.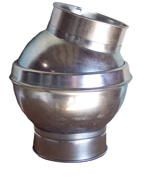 Spun steel galvanized ball joints provide flexibility in ducts serving moving cutter heads or other moving equipment. Thus, duct can swing through an arc while maintaining exhaust flow in the line. Ball joints are available in 3" through 12" diameter.
Duct support hanger rings are made in halves for easy installation. Hangers are fabricated of band iron. Hanger rings are available in sizes ranging from 4" to 14".
Handles are fabricated from 16 gauge mild or stainless steel.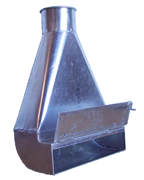 Sweeps have tight fitting doors, conveniently opened by foot. Installed near drills, benches, etc., for floor cleanup use. Floor sweeps are made from 18 gauge galvanized material with a 6" diameter connection.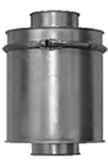 Oil Mist Accumulator and Spark Trap. A series of internal cones serve to trap mist droplets or slow sparks as they burn out. Accumulator have a drain hose that returns the liquid to the machine. Both have quick easy clean out utilizing the rolled lip clamp.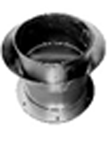 Oil mist curbs capture oil that leaks from around or under flex hose in oil mist applications. A curb captures the liquid. Weep holes allow the liquid to 'weep' back into the machine.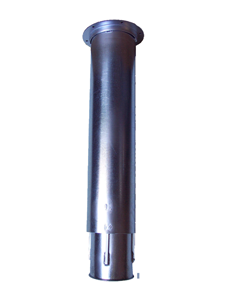 No loss stack eliminates fan exhaust back pressure and therefore improves system efficiency and effectiveness. Straight thru duct in a duct design allows vertical exhaust and still protects from rain getting into the system.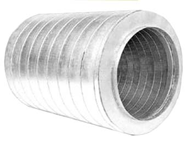 Silencers for lowering the decibel level of fan exhaust.