Air Collection Parts
Clamp-Together Ducting Now Available! (view catalog)
Kirk & Blum Duct and Air Components Catalog (view catalog)
Albina has been a distributor for Kirk & Blum component parts for dust and air handling systems since 1969. In addition to offering their standard duct and component parts, we now offer Kirk & Blum's exclusive Forever Clamp and all other components of the Clamp-Together ducting line.
Standard duct and components are shown in the image below. For more product information, scroll down to view our stocked items.
Albina can drop ship the Clamp-Together Ducting and Standard Component Parts direct to your location. Albina Pipe Bending's inventory helps local contractors save time and expense with standardized component parts. Stocked parts are available for immediate shipment which means you can complete your project on time without costly delays. Non-standard component parts can be ordered or fabricated upon special request. All orders can be taken via phone, fax or email.
In addition to the ability to drop ship the Clamp-Together Ducting and Standard Component Parts shown in the above catalog, Albina has in stock and ready for delivery a variety of component parts, such as:
Kirk & Blum also offers the popular Forever Clamp with an adjustable band to provide extra assurance in wet or high pressure (positive or negative) applications and oil mist applications.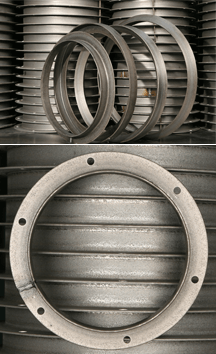 Pressed and rolled steel angle rings are used widely in joining ductwork together in dust and fume control work. All rings are of black steel, unpainted. Most sizes up to 72" are in stock for immediate shipment. Through 14" diameter, angle rings are press formed, and above 14", roll formed and welded. They are available with holes- bolts not included. All angle rings and flanges are punched on automatic equipment.
*Special order items such as: Stainless Steel, Galvanized, Aluminum, Non-Punched and Larger Angle are available with short lead times.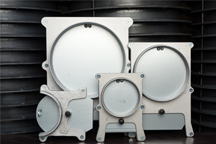 Cast aluminum cut-offs with galvanized steel slide gate. Cut-offs are used to balance systems, or save air, heat and power when a machine is not in use. All cut-offs are furnished with set screws so the blade may be firmly placed for volume control. Stocked sizes include 3" through 14" diameter (half and full).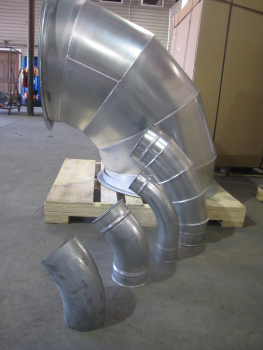 The Kirk & Blum one-piece elbow is fabricated from a single piece of galvanized sheet steel formed by a special machine. Centerline radius is either 1-1/2 or 2-1/2 times the elbow diameter. Stock sizes range from 3" through 14" diameter, 45 or 90 degrees.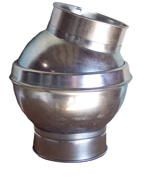 Spun steel galvanized ball joints provide flexibility in ducts serving moving cutter heads or other moving equipment. Thus, duct can swing through an arc while maintaining exhaust flow in the line. Ball joints are available in 3" through 12" diameter.
Duct support hanger rings are made in halves for easy installation. Hangers are fabricated of band iron. Hanger rings are available in sizes ranging from 4" to 14".
Handles are fabricated from 16 gauge mild or stainless steel.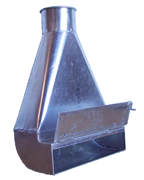 Sweeps have tight fitting doors, conveniently opened by foot. Installed near drills, benches, etc., for floor cleanup use. Floor sweeps are made from 18 gauge galvanized material with a 6" diameter connection.
Mild steel, non-pressure rated, flat rings; utilized where piping sections of heavy guage tube or pipe are connected. Primarily used in Pneumatic Conveying or Chip Conveying Systems. All plate flanges are predrilled for easy alignment and installation. Plate flanges are available from 4.5" through 26" diameter.
*Along with components for dust and air collection systems, Albina stocks plate flanges used in pneumatic conveying systems.